Which Company is The Largest Exporter of Cotton?

Export News

20-11-2023
Cotton is a natural fiber and an important part of the textile industry. Cotton exports have a significant impact on supply chains, affecting industries ranging from apparel to home furnishings.

Global cotton trade plays a pivotal role in the international market, with countries actively participating in the import and export of this important commodity. Exporters of cotton such as the United States, India and Brazil dominate the global market. The United States, in particular, stands out as a major player, making a significant contribution to the international cotton trade.
Ranking Of Companies That Export The Most Cotton
From January to November 2023, the Indian company SCM GARMENTS PRIVATE LIMITED was the world's largest exporter of cotton, accounting for approximately 51.48% of the world's total; followed by Vietnam's CôNG TY TRáCH NHIệM HữU HạN HEIWA MEDIC VIệT NAM and CôNG TY TNHH THêU THàNH TUấN HảI DươNG.
From January to November 2023, six companies' total cotton exports exceeded 10 billion, accounting for approximately 56.35% of the world's total.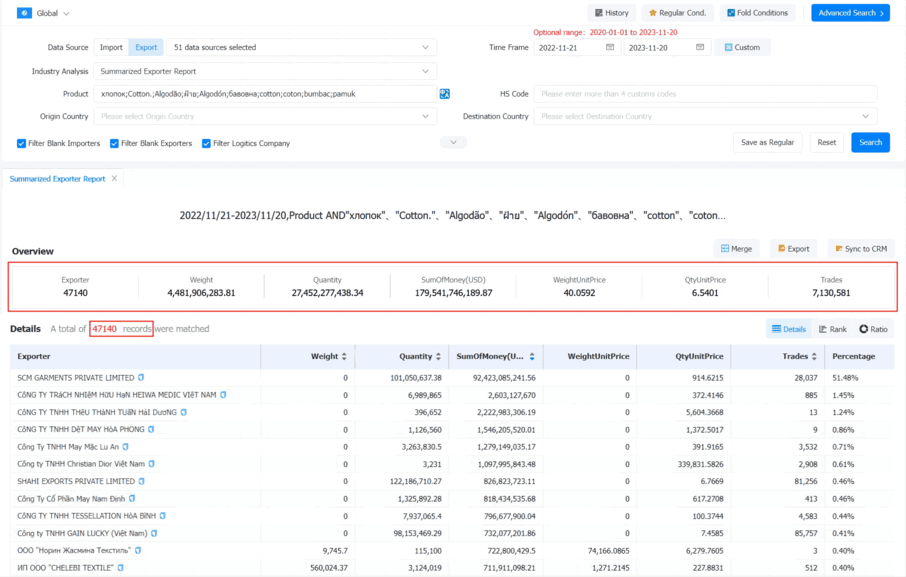 Leave Message for Demo Request or Questions
We always appreciate your visit at tendata.com. We'd love to hear your suggestions, feedback & queries. Please contact us to schedule a demo or learn more about our services. We will respond to your query within 1 working day.