Which Types of Granite Can Be Imported from India?

Import News

17-10-2023
Granite, a versatile and durable natural stone, is highly sought after for a wide range of applications, including countertops, flooring, and monument construction. India, renowned for its abundant and high-quality granite reserves, is a significant global exporter of this material. In this article, Tendata will explore the various types of granite that can be imported from India, providing insights into the characteristics and factors that influence the import trade.
>>>Learn More about Granite Imports<<<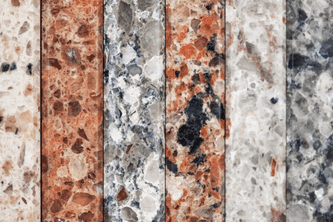 ---
1. Classic Indian Granite Varieties:
India boasts a diverse range of granite varieties, each with its unique colors, patterns, and characteristics. Some of the classic Indian granite types include:
· Black Galaxy: Known for its striking black background with golden speckles, Black Galaxy granite is a popular choice for countertops and flooring.
· Kashmir White: Recognized for its predominantly white color with specks of grey and light red, Kashmir White granite is used in a variety of interior applications.
· Absolute Black: As the name suggests, Absolute Black granite is entirely black, making it a preferred choice for sleek, modern designs.
· Tan Brown: This granite variety features a brown background with black and grey speckles, making it a popular choice for kitchen countertops.
2. Exotic and Premium Granite Types:
In addition to classic varieties, India also produces exotic and premium granite types that are highly sought after for upscale projects. These include:
· Blue Pearl: Quarried in India, Blue Pearl granite is known for its distinctive blue and silver shimmer, making it ideal for luxurious interior design.
· Rainforest Green and Brown: These granite types feature unique patterns resembling tree branches, making them a popular choice for creating a natural ambiance.
>>>Improve Your Import Export Business With Tendata<<<
---
3. Granite for Specific Applications:
Indian granite is versatile and caters to specific applications. For instance:
· Jhansi Red: This granite type is prized for its deep red color and is often used for monuments and memorials.
· Sira Grey: Known for its grey background with dark grey speckles, Sira Grey granite is frequently used in flooring and exterior cladding.
· Himalayan Blue: Quarried in the Himalayan region, this granite is popular for its unique blue-grey hues, making it a favored choice for countertops and accent walls.
4. Factors Influencing the Import of Indian Granite:
Several factors influence the import of Indian granite:
· Quality Standards: Indian granite is subject to various quality standards and certifications, ensuring that the imported stone meets international expectations for durability and appearance.
· Color and Pattern Preferences: Importers often select specific granite varieties based on color and pattern preferences that suit their projects.
· Pricing: Granite prices can vary significantly based on factors like rarity, color, and demand. Some exotic varieties can be more expensive.
· Sustainability and Ethical Sourcing: Increasingly, importers are considering the ethical and sustainable sourcing of granite. Indian quarries with responsible mining practices are more attractive to environmentally conscious buyers.
5. Trends in Granite Import:
The granite import trade is evolving with trends such as:
· Digital Procurement: Importers are using digital platforms and tools to streamline the procurement process, from finding suppliers to managing shipments.
· Sustainable Sourcing: A growing emphasis on environmentally friendly practices is leading to increased demand for responsibly sourced granite.
· Customization: Many importers seek customization options for their granite products, including specific finishes, sizes, and edge profiles.
>>>Improve Your Import Export Business With Tendata<<<
---
In conclusion, when importing granite from India, one has the advantage of choosing from a wide range of classic, exotic, and premium granite varieties, each catering to specific aesthetic and functional needs. Understanding the characteristics and factors influencing the import trade allows for better-informed decisions and ensures that you select the right type of granite for your specific project or business requirements.
You may also want to know:
1. Global Import and Export News
2. Keeping up with Global Import Data
3. Real-Time Access to International Export Data
4. Learn How These Import Export News Can Help Your Import Export Business?
- Specific Trade Data to Help You Analyze Where to Go Next.
Leave Message for Demo Request or Questions
We always appreciate your visit at tendata.com. We'd love to hear your suggestions, feedback & queries. Please contact us to schedule a demo or learn more about our services. We will respond to your query within 1 working day.