Exploring the Global Beef Import Export Market

Market Insights

11-09-2023
The global beef industry has experienced overall positive dynamics in recent years, with only a temporary setback in 2020 due to the COVID-19 pandemic, leading to a decrease in production. In 2022, global beef production reached 59.4 million tons, marking a 1.7% increase from the previous year. However, according to forecasts from the United States Department of Agriculture (USDA), beef production is expected to see a slight decline to 59.2 million tons in 2023.

>>>Know More About Beef Market<<<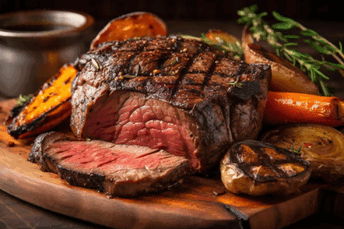 Leading Beef Producers
The United States stands as the leader in global beef production. In 2022, the U.S. produced 12.9 million tons of beef, reflecting a 1.3% increase from 2021, showcasing stable production growth. Even in 2020, when business activities were restricted, and the restaurant industry faced closures, the growth merely slowed but did not stop. However, factors such as a high slaughter rate leading to a decrease in average slaughter weights and a shortage of livestock to maintain last year's production levels are expected to contribute to a decline in beef production in 2023.
Brazil holds the second position in the global beef production structure. In 2022, Brazil produced 10.4 million tons of beef, a 6.2% increase from the previous year. On average, production increased by 1.2% annually from 2017 to 2022. The decline in this indicator occurred in 2020 and 2021 due to a decrease in livestock numbers and China's ban on Brazilian beef imports. The recovery of livestock and the lifting of the ban have enabled the country to achieve record-high production levels. According to the USDA's predictions, beef production in Brazil will continue to grow, reaching 10.6 million tons in 2023.
China has been rapidly increasing its beef production and has become one of the world's top three beef-producing nations since 2021. In 2022, China produced 7.1 million tons of beef, marking a 2.1% increase from 2021 and a 12.3% increase from 2017. The Chinese beef market is concentrated among small producers lacking efficient production means, which has limited the growth potential of beef production. Additionally, local beef competes with cheaper imported meats. However, despite its smaller share, large manufacturers are actively investing in modernizing equipment, and the government is promoting the establishment of new manufacturing enterprises. These measures, coupled with high beef prices and a growing demand for beef products, have facilitated the growth of beef production in China. The USDA predicts that beef production in China will increase to 7.4 million tons in 2023.
Global Beef Consumption
Global beef consumption is estimated to reach 57.4 million tons in 2022, representing a 0.9% increase from 2021. During the review period, global beef consumption increased by 6.1% compared to 2017.
The United States is the largest beef-consuming country globally. In 2022, it is estimated that the country's beef consumption will reach 12.8 million tons. In 2023, high beef prices and an increasing economic burden on U.S. households will lead to a shift in consumption towards cheaper animal proteins, such as poultry, resulting in a substantial increase in beef consumption to 12.2 million tons.
China's beef consumption continues to grow at a rapid rate, with an average annual growth rate of 7.8% since 2018. Since 2018, the country's consumption has surpassed Brazil's, making it the world's second-largest consumer of beef. Estimated at 10.6 million tons in 2022, beef consumption is projected to increase by 5.7% compared to the previous year. However, according to the USDA's forecast, a new wave of COVID-19 and its related economic challenges will lead to a lower growth rate of 2.8% in 2023, with consumption reaching 10.9 million tons.
Conclusion
The global beef market is a dynamic and evolving industry with the United States, Brazil, and China as key players. While production and consumption trends may experience fluctuations due to various factors, including economic conditions and public health crises, beef remains a significant part of diets worldwide. As the industry adapts to changing circumstances, players in the beef supply chain must remain agile and responsive to meet the evolving demands of consumers and the market.
---
Another News
Latest News Released Today: Tendata Blogs
Other Trade Data References to Beef:
1. Unveiling the Fastest-Growing Beef Exporting Nations
2. Global Beef Export Landscape: Unveiling the Trends and Opportunities
3. How Have the Value and Volume of Beef Exports from Uruguay to China Changed?
Leave Message for Demo Request or Questions
We always appreciate your visit at tendata.com. We'd love to hear your suggestions, feedback & queries. Please contact us to schedule a demo or learn more about our services. We will respond to your query within 1 working day.