Leveraging Customs Data for Quick Customer Development

Trade Data Provider

10-11-2023
In the past, during market research, many foreign trade colleagues expressed dissatisfaction with customs data, claiming it was inaccurate and not useful. Such complaints were common. Tendata has always believed that there's a reason for everything. The customs data market has been around for over a decade and continues to thrive, indicating its inherent value.
So, for those who complain about the futility of customs data, perhaps they should reconsider their approach. Upon a cursory glance, it might indeed seem confusing—it's just transaction records. Merely scrutinizing these records and detailed customs declarations doesn't seem to lead to customer development.
Today, Tendata would like to share how to effectively leverage customs data to develop clientele.
Understanding how to purchase customs data is quite important. Through this data, one can glean the following insights:
1. Industry analysis
2. Understanding competitors' export situations
3. Identifying potential purchasing partners
4. Identifying customers with urgent procurement needs
While knowing which buyers are purchasing your products is valuable, not all might be suitable for your development. Some have stable cooperation networks and are consistently active in the market, making it difficult to penetrate. The real prospects for Tendata's development are those with unstable supply chains, urgently in need of your products, and whose procurement aligns with your supply capacity.
Additionally, it's crucial to grasp the procurement cycle of the buyer. Contacting them at the most opportune moment heightens the chances of success. Analyzing the global procurement scenarios of a product can determine which market to focus on. It's also essential to evaluate the proportion of a foreign buyer's procurement of your product. Moreover, while Tendata might assume that reaching foreign buyers directly means reaching end customers, in reality, many of these buyers export the purchased products to other countries. Analyzing customs data helps unveil more profound end customers and enhance profitability.
By effectively utilizing customs data, Tendata can gain valuable insights for better customer development and market expansion.
---
What are the Advantages of Tendata Trade Data Compared to Traditional B2B and Trade Show Marketing?
Whether you admit it or not, the costs of traditional methods like attending trade shows or joining B2B platforms to acquire new customers have been steadily increasing over the years, while the effectiveness has been sharply declining. So, what can you do?
If you take a closer look at your competitors, you'll discover that they are no longer simply relying on data from trade shows or just posting photos on Alibaba. They are utilizing customs data to precisely filter target customer email data in bulk, analyzing supplier data, market data, and even proactively using authoritative foreign media to release news, establish websites, and take the initiative to seek international customers. (>>> Click for more details)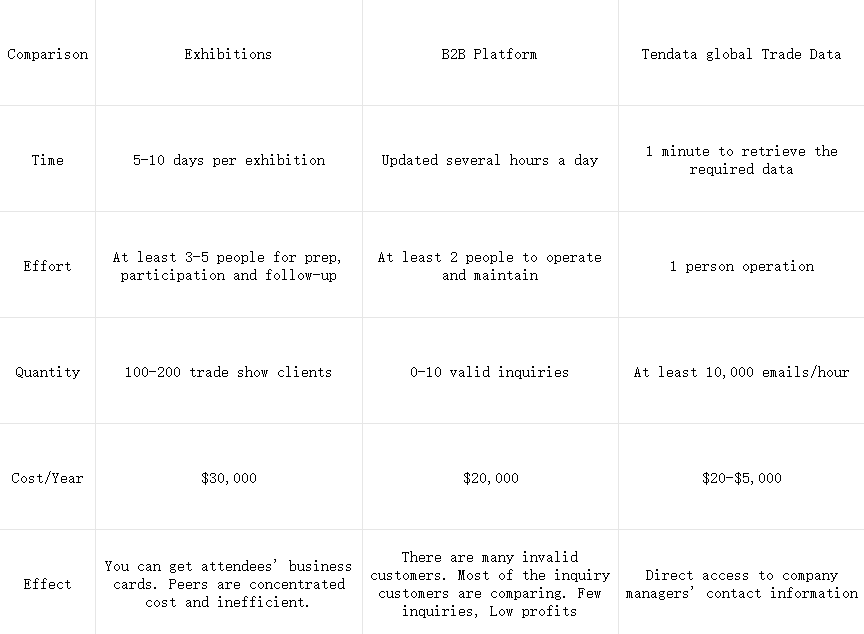 Leave Message for Demo Request or Questions
We always appreciate your visit at tendata.com. We'd love to hear your suggestions, feedback & queries. Please contact us to schedule a demo or learn more about our services. We will respond to your query within 1 working day.