List of Active Importers of the USA | Tendata

Trade Data

14-11-2023
By logging into the Tendata system and selecting Tendata iTrader, we can see the latest Importers of the USA for the last year ending November 10, 2023!

The top 5 Importers of the USA are:
- 2710: Petroleum oils and oils from bituminous minerals, not crude; preparations n.e.c. containing by weight 70% or more of petroleum oils or oils from bituminous minerals; these being the basic constituents of the preparations; waste oils (6.56%, $135 billion)
- 2709: Petroleum oils and oils obtained from bituminous minerals, crude (5.67%, $117 billion)
- 2711: Petroleum gases and other gaseous hydrocarbons (4.66%, $96 billion)
- 8703: Motor cars and other motor vehicles principally designed for the transportation of persons (2.8%, $57 billion)
- 8542: Electronic integrated circuits and microassemblies (2.5%, $51 billion)
Based on the top five imports into the United States, Tendata will provide you with some examples.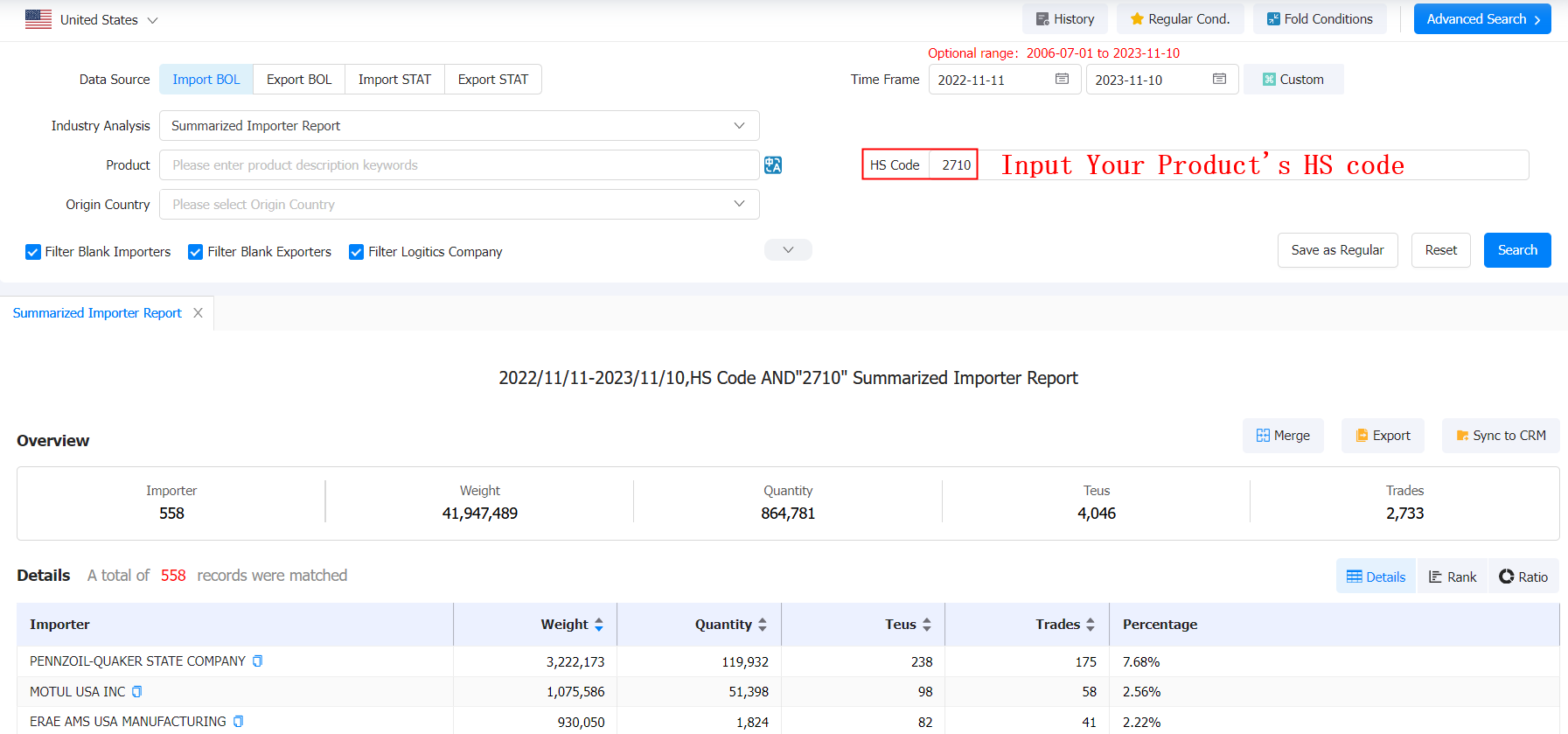 ---
According to the 4-digit HS code, the top 10 Importers of the USA for HS code 2710 are:
1.PENNZOIL-QUAKER STATE COMPANY(7.68%)
2.MOTUL USA INC(2.56%)
3.ERAE AMS USA MANUFACTURING(2.22%)
4.TOTALENERGIES MARKETING COLOMBIA(2.02%)
5.RED DRUM TRADING INC(2%)
6.PENNZOIL QUAKER STATE NOMINEE CO(1.94%)
7.TOTALENERGIES MARKETING CHILE S.A.(1.91%)
8.LUBRICANTES MOTUL SA DE CV(1.64%)
9.LUBRICANTES DELTA S.A.(1.49%)
10.MOTOCICLETAS Y EQUIPOS S.A DE C.V(1.47%)
---
According to the 4-digit HS code, the top 4 Importers of the USA for HS code 2709 are:
1.Calumet Specialty Products Partners(67.2%)
2.SOLENIS COLOMBIA S.A.S(13.88%)
3.JF HILLEBRAND DO BRASIL T. I. LTDA(13.75%)
4.SACMI DE MEXICO S.A. DE C.V.(5.17%)
---
According to the 4-digit HS code, the top 10 Importers of the USA for HS code 2711 are:
1.STERNO PRODUCTS(13%)
2.IMPEX GLS DFW(11.23%)
3.JOHNSON OUTDOORS GEAR INC(4.91%)
4.LNG HOLDINGS FLORIDA LLC(4.79%)
5.MILO BUTLER DISTRIBUTORS(4.61%)
6.DAIFUKU TRADING CORP.(4.6%)
7.RT-USA(4.25%)
8.ICCS USA CORPORATION(3.99%)
9.SUN AMERICA, INC.(3.91%)
10.LEADERWARE INTERNATIONAL CORP.(2.82%)
---
According to the 4-digit HS code, the top 10 Importers of the USA for HS code 8703 are:
1.TOYOTA MOTOR SALES U.S.A., INC.(19.68%)
2.MERCEDES BENZ USA LLC(8.95%)
3.VOLVO CAR USA LLC(6.52%)
4.GENERAL MOTORS LLC(5.37%)
5.FCA US LLC(5.11%)
6.MAZDA MOTOR OF AMERICA, INC.(3.75%)
7.GENERAL MOTORS(2.93%)
8.JAGUAR LAND ROVER NORTH AMERICA LL(2.81%)
9.MITSUBISHI MOTOR SALES OF CANADA(2.28%)
10.FORD TRADING COMPANY(1.5%)
---
According to the 4-digit HS code, the top 10 Importers of the USA for HS code 8542 are:
1.HP INC C/O(33.59%)
2.HP INC C/O SYNNEX CORPORATION(15.99%)
3.LINAK USA(6.86%)
4.MAWSON INFRASTRUCTURE GROUP INC.C/O(4.58%)
5.SUMITOMO ELECTRIC WIRING SYSTEMS IN(3.72%)
6.TOYOTA TSUSHO NEXTY ELECTRONICS(2.68%)
7.DAN-MAR COMPONENTS, INC(2.51%)
8.GLENCORE RECYCLING(2.19%)
9.ECOTECH RECYCLING LLC(1.95%)
10.EATON CORPORATION(1.78%)
---
Tendata iTrader provides additional information about these companies. This information includes:
1. Specific details about the company, including basic information (company name, official website, geographical location, operational details, company identification code, etc.), business information, shareholder information, financial information, trademark information, company relationships, and supply chain details.
2. Company contacts, including executive names, positions, corporate email addresses, SNS contact information, etc.
3. Import and export analysis: You can obtain different analytical insights based on time periods, company products, company HS codes, etc. You can see the trade quantity during a specific time period, specific purchasers, recent import/export dates, trade trends, HS code analysis, buyer/supplier analysis, target market analysis, port of shipment, destination port, and more.
Here is an example scenario of company information: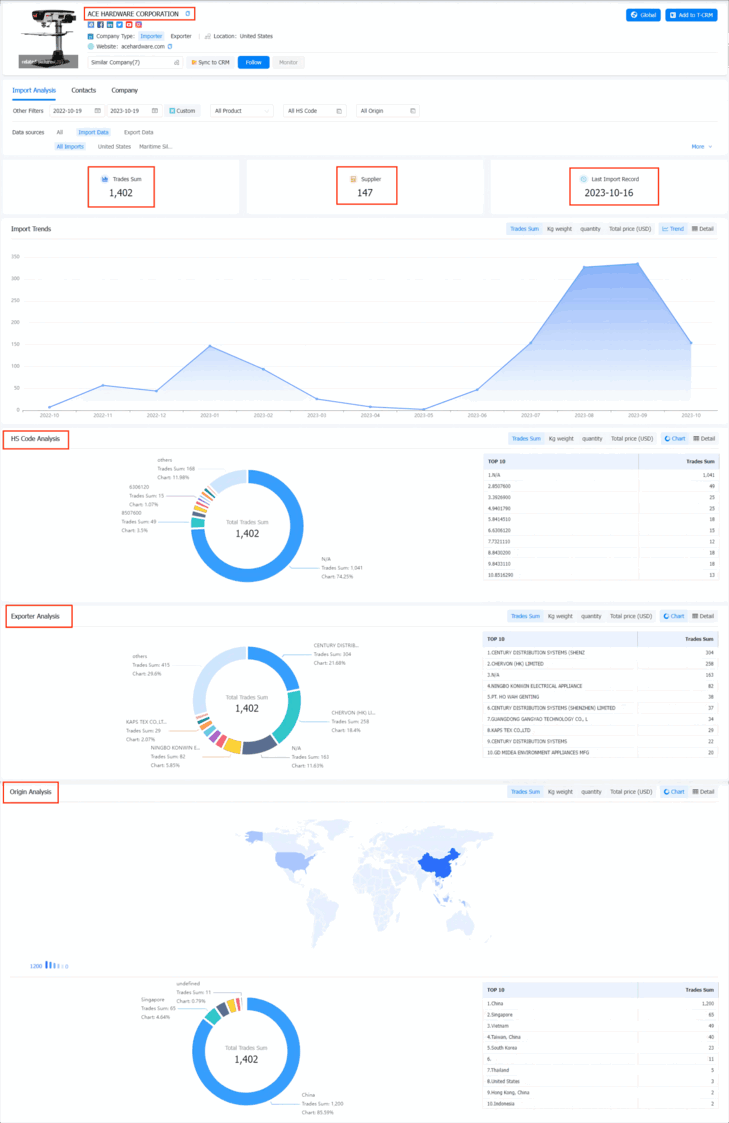 Leave Message for Demo Request or Questions
We always appreciate your visit at tendata.com. We'd love to hear your suggestions, feedback & queries. Please contact us to schedule a demo or learn more about our services. We will respond to your query within 1 working day.