List of Active Exporters India | Tendata

Trade Data

16-11-2023
Logging into the Tendata system and selecting Tendata iTrader, we can see the latest Exporters India for the last one year ending October 2023 !
India's top 5 exports are (based on 4-digit HS codes):
· 2710 (20.0%, $94 billion):Petroleum oils and oils from bituminous minerals, not crude; preparations n.e.c. containing by weigh
· 7102 (5.28%, $23 billion):Diamonds
· 3004 (3.85%, $17.4 billion):Medicaments consisting of mixed or unmixed products for therapeutic or prophylactic uses
· 7113 (2.71%, $12.3 billion):Articles of jewellery and parts thereof, of precious metal or of metal clad with precious metal
· 8517 (2.41%, $10.9 billion):Electrical apparatus for line telephony or line telegraphy; videophones
Based on India's top 5 exports, Tendata will provide you with some examples.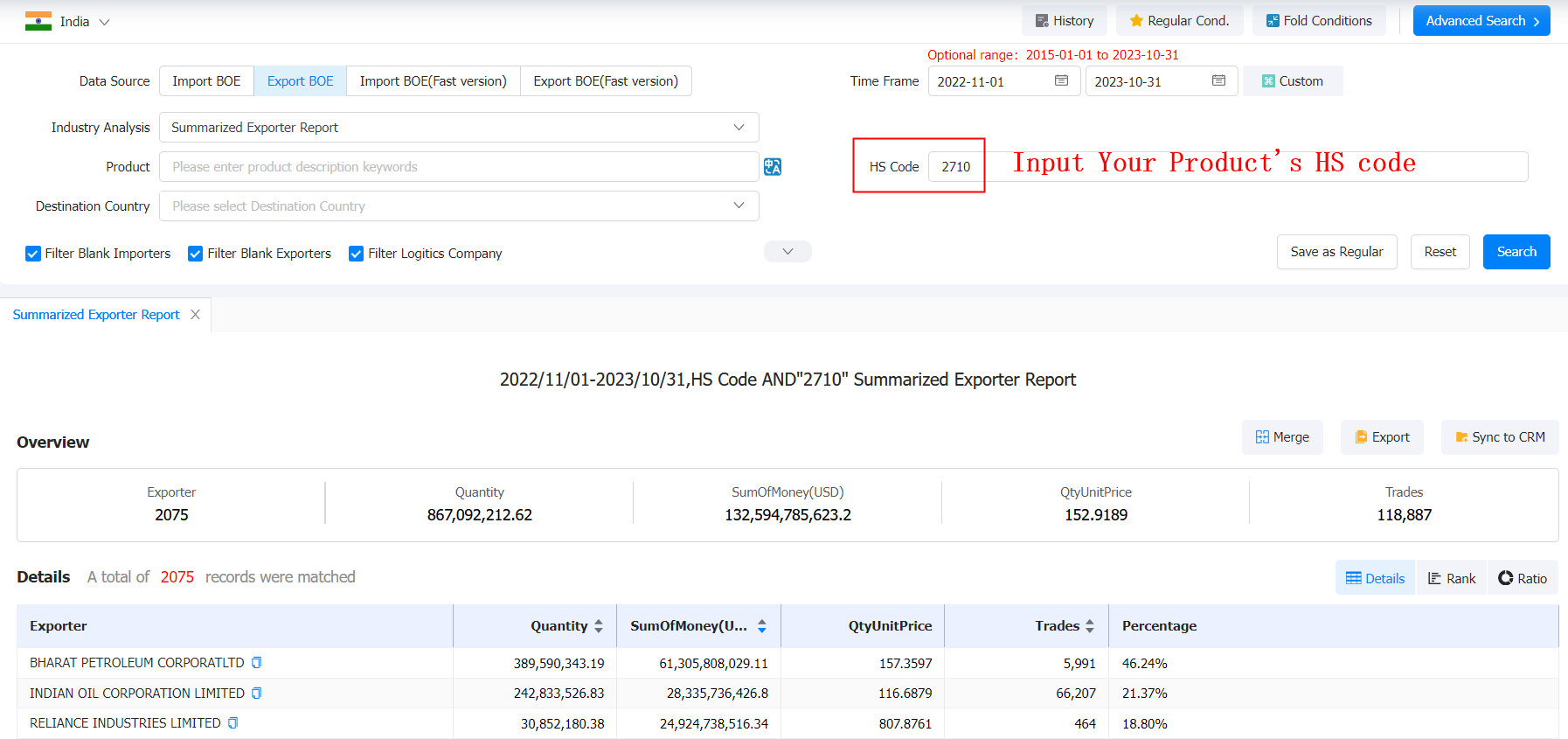 ---
According to the 4-digit HS code, the top 10 Exporters India for HS code 2710 are:
1.BHARAT PETROLEUM CORPORATLTD(46.24%, $613058.08 Million)
2.INDIAN OIL CORPORATION LIMITED(21.37%, $283357.36 Million)
3.RELIANCE INDUSTRIES LIMITED(18.8%, $249247.39 Million)
4.TVS MOTOR COMPANY LIMITED(4.84%, $64135.88 Million)
5.HINDUSTAN PETROLEUM CORPORATION LIMITED(4.49%, $59591.39 Million)
6.FUTURE OILS AND LUBRICANTS PRIVATE LIMITED(1.29%, $17043.61 Million)
7.IDEMITSU LUBE INDIA PRIVATE LIMITED(1.07%, $14131.63 Million)
8.ENDURANCE TECHNOLOGIES LIMITED(0.48%, $6364.88 Million)
9.SPIDIGO LUBRICANTS & AUTOMOTIVE(0.42%, $5521.4 Million)
10.JOHN DEERE INDIA PRIVATE LIMITED(0.19%, $2502.99 Million)
---
According to the 4-digit HS code, the top 10 Exporters India for HS code 7102 are:
1.SHREE RAMKRISHNA EXPORTS PRIVATE LIMITED(10.46%, $21273.12 Million)
2.KIRAN GEMS PRIVATE LIMITED(5.83%, $11859.12 Million)
3.HARI KRISHNA EXPORTS PRIVATE LIMITED(4.79%, $9749.37 Million)
4.DHARMANANDAN DIAMONDS PRIVATE LIMITED(3.58%, $7289.81 Million)
5.VENUS JEWEL(3.28%, $6673.66 Million)
6.GIA INDIA LABORATORY PRIVATE LIMITED(2.81%, $5722.83 Million)
7.MAHENDRA BROTHERS EXPORTS PRIVATE LIMITED(2.19%, $4457.97 Million)
8.ROSY BLUE (INDIA) PRIVATE LIMITED(2.11%, $4301.95 Million)
9.LAXMI DIAMOND PRIVATE LIMITED(1.81%, $3680.46 Million)
10.SJW SHIVAM JEWELS PRIVATE LIMITED(1.76%, $3590.08 Million)
---
According to the 4-digit HS code, the top 10 Exporters India for HS code 3004 are:
1.CIPLA LIMITED(27.46%, $5562955.53 Million)
2.GRANULES INDIA LIMITED(8.3%, $1680776.16 Million)
3.INTAS PHARMACEUTICALS LIMITED(7.74%, $1568356.31 Million)
4.AMOL PHARMACEUTICALS PRIVATE LIMITED(7.18%, $1453976.43 Million)
5.AUROBINDO PHARMA LTD(5.9%, $1195115.61 Million)
6.ZYDUS LIFESCIENCES LIMITED(5.61%, $1136773.47 Million)
7.DR.REDDY'S LABORATORIES LTD(5.05%, $1023961.03 Million)
8.MYLAN LABORATORIES LIMITED(4.96%, $1004765.51 Million)
9.HIMALAYA WELLNESS COMPANY(2.89%, $584744.64 Million)
10.SANDOZ PRIVATE LIMITED(2.62%, $530143 Million)
---
According to the 4-digit HS code, the top 10 Exporters India for HS code 7113 are:
1.SAGAREMPIRE JEWELS PRIVATE LIMITED(3.57%, $3830.08 Million)
2.AUSIL CORPORATION PRIVATE LIMITED(2.48%, $2652.86 Million)
3.HASMUKH PAREKH JEWELLERS(2.45%, $2625.17 Million)
4.RHCGLOBAL EXPORTS PRIVATE LIMITED(2.3%, $2464.36 Million)
5.MALABAR GOLD PRIVATE LIMITED(1.83%, $1966.27 Million)
6.VALLABHJI MALSI & CO(1.57%, $1682.68 Million)
7.AB JEWELS PVT LTD(1.47%, $1576.3 Million)
8.JS JEWELS PRIVATE LIMITED(1.43%, $1533.39 Million)
9.MODERN IMPEX(1.33%, $1427.35 Million)
10.SHARANAM JEWELS LLP(1.24%, $1325.57 Million)
---
According to the 4-digit HS code, the top 10 Exporters India for HS code 8517 are:
1.SAMSUNG INDIA ELECTRONICS PRIVATE LIMITED(72.21%, $383583.31 Million)
2.FOXCONN HON HAI TECHNOLOGY INDIA MEGA DEVELOPMENT(8.21%, $43638.32 Million)
3.MOBASE INDIA PRIVATE LIMITED(7.7%, $40881.5 Million)
4.WISTRON INFOCOMM MANUFACTURING ( INDIA )PRIVATE LI(4.02%, $21337.49 Million)
5.PEGATRON TECHNOLOGY INDIA PRIVATE LIMITED(3.37%, $17878.16 Million)
6.VVDN TECHNOLOGIES PRIVATE LIMITED(1.1%, $5835.42 Million)
7.PADGET ELECTRONICS PRIVATE LIMITED(0.29%, $1539.57 Million)
8.CREATIVE NEWTECH LIMITED(0.28%, $1474.48 Million)
9.NOKIA SOLUTIONS AND NETWORKS INDIA PRIVATE LIMITED(0.23%, $1227.93 Million)
10.TATA ELECTRONICS PRIVATE LIMITED(0.15%, $792.31 Million)
---
Tendata iTrader provides additional information about these companies. This information includes:
1. Specific details about the company, including basic information (company name, official website, geographical location, operational details, company identification code, etc.), business information, shareholder information, financial information, trademark information, company relationships, and supply chain details.
2. Company contacts, including executive names, positions, corporate email addresses, SNS contact information, etc.
3. Import and export analysis: You can obtain different analytical insights based on time periods, company products, company HS codes, etc. You can see the trade quantity during a specific time period, specific suppliers, recent export dates, export trade trends, HS code analysis, supplier analysis, target market analysis, port of shipment, destination port, and more.
Here is an example scenario of company information: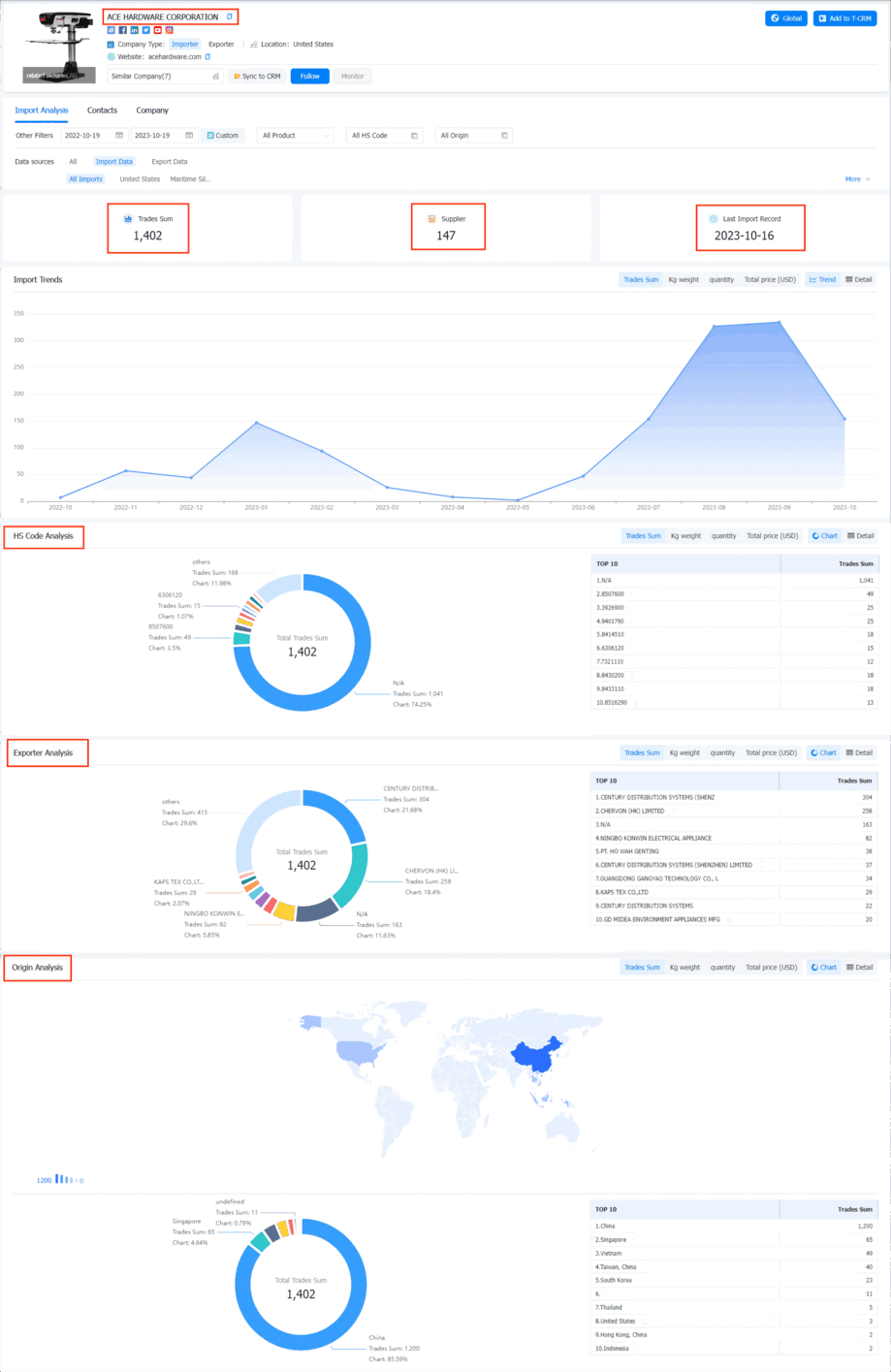 Leave Message for Demo Request or Questions
We always appreciate your visit at tendata.com. We'd love to hear your suggestions, feedback & queries. Please contact us to schedule a demo or learn more about our services. We will respond to your query within 1 working day.