R-Calf Usa Calls for Import Tariffs on Australian and New Zealand Lamb

Trade Trends News

11-08-2023
Key Points:
· R-CALF USA estimates three-quarters of U.S. lamb comes from overseas.
· U.S. domestic production is said to be down 60% since the early 1990s.
· Australia's livestock industry hopes its trade relationship with the US will be strong enough to withstand the campaign.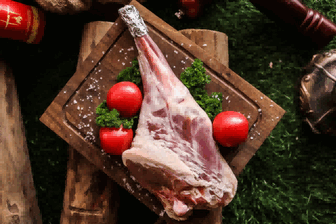 ---
A major group of U.S. cattle and sheep producers is calling for major restrictions on lamb imports from Australia and New Zealand.
R-CALF USA, which describes itself as the largest organization representing U.S. cattle and sheep producers, wants tariffs on lamb imports to help the local U.S. sheep industry compete.
It has submitted a petition to the U.S. Trade Ambassador calling for a global safeguard investigation and asking the U.S. Congress to establish a phased-in tariff quota (TRQ) system on imported lamb within 10 years.
Bill Bullard, CEO of R-CALF USA, claims that Australian lamb has brought the US sheep industry to its knees and that safeguards are needed to increase the market share of US lamb to 50 percent.
"The US sheep industry has been hit hard over the last two or three decades," he said.
"We now have the smallest inventory of sheep and lambs in the history of our industry."
The petition claims that nearly three-quarters (74 percent) of the lamb consumed in the U.S. comes from foreign territories.
"There has been a surge in imports of lamb and mutton, primarily from Australia, but also from New Zealand," Mr. Bullard said.
Domestic production in the US has fallen by 60% since the early 1990s, the petition said.
"When (Australian) exports are destroying our domestic industry, we have to act," Mr. Bullard said.
"We are simply fighting for the economic and national food security interests of the United States."
>>>Learn about Market Trends in the Import and Export of Australian Lambs<<<
---
Tariffs used under Trump
The U.S. used a tariff quota (TRQ) system under the former Donald Trump administration.
In 2018, tariffs of 15 to 50 percent were imposed on solar cells and batteries and on imported washing machines.
A January 22, 2018, administration statement said, "The President's actions demonstrate once again that the Trump Administration will always protect American workers, farmers, ranchers, and businesses in this area."
R-CALF USA believes it has a strong case for similar protections on imported lamb.
"It's really what we were hoping for," Mr. Bullard said.
Regional Victorian meat analyst Simon Quilty said while there was precedent, "there's not a lot of hope for R-CALF, hopefully it won't have a leg up".
"I think it's wishful thinking, to be honest," he said.
"I think our relationship and trade agreements with the U.S. will be much more prominent and too strong to gain any momentum."
>>>Learn about Market Trends in the Import and Export of New Zealand Lambs<<<
Leave Message for Demo Request or Questions
We always appreciate your visit at tendata.com. We'd love to hear your suggestions, feedback & queries. Please contact us to schedule a demo or learn more about our services. We will respond to your query within 1 working day.