Vietnam Exporters Renegotiate Higher Rice Prices after India Bans Traders

Trade Trends News

17-08-2023
-Prices of about 500,000 tons of rice in Vietnam renegotiated
-Buyers pay $30-80/ton more for Vietnamese fragrant rice
-Price hikes threaten consumers with higher food prices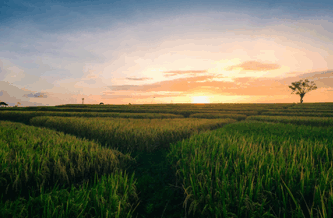 ---
Vietnamese exporters have renegotiated to raise prices for about 500,000 tons of rice as global prices climbed to a 15-year high following India's ban on overseas sales last month, two trade sources said.
It was the first confirmation of a rise in rice prices after India's surprise ban, with importers paying higher prices for one of the world's most widely consumed staples amid tight supplies.
Asian rice exporters have raised their offers by about 20 percent since India banned non-basmati white rice exports last month, increasing the risk of food inflation for some of the most vulnerable consumers in Asia and Africa, who are already struggling with erratic weather and dwindling supplies. Ukraine war.
A trader at an international trading company said, "Buyers have agreed to pay higher prices for some of the goods they purchased for August shipments." About 200,000 tons of rice have been shipped this month, while 300,000 tons are yet to be loaded at Vietnamese ports, he added.
Singaporean traders said importers, including Indonesia and the Philippines, had signed up for Vietnamese fragrant rice at about $550 a tonne for about $30 to $80 a tonne before India banned white rice exports in July.
This has generated about $15 million to $40 million in additional revenue for sellers compared to the prices agreed before India imposed the restrictions.
The export ban by India, which accounts for 40 percent of the world's rice supply, resulted in 10 million tons of reduced supply on the international market.
"The renegotiation is mainly for non-basmati white rice," said a Mumbai-based distributor for a global trading company.
"Both buyers and sellers have absorbed some of the price increase due to higher local rice prices. Sellers have not increased prices to match current market prices."
Fragrant rice from Vietnam was quoted at as much as $700 a tonne, but prices were renegotiated to around $580-630 a tonne, traders said.
Thailand's 5 percent broken rice was offered at $650-655 a ton, while a similar variety from Vietnam was offered at $620-630 a ton.
Prior to India's decision to restrict exports in July, Thai rice was quoted at $545 per ton and Vietnamese rice at $515-525 per ton.
---
Find New Market
If you want to find a new export market in the world with lower prices than Vietnam, you need to conduct a world market analysis and locate a new rice exporter. These are complex tasks that Tendata can help you with!
Step 1: Develop Customers and Quickly Create a List of Matching Customers
Tendata iTrader, with customs data of 91+ countries, business data of 198 countries, internet data of 172 countries, 10+ billion trade data, 120 million in-depth enterprise data and 130 million importers/exporters database, comprehensively grasps the existing importers/exporters and new importers/exporters in the target market, and quickly helps you to develop customers; it also provides a variety of search methods, and you can search by We also provide a variety of search methods by product, company name, hs code, SIC code, etc. Intelligent one-key query to quickly develop a list of matching customer groups. (>>> Click to develop customers)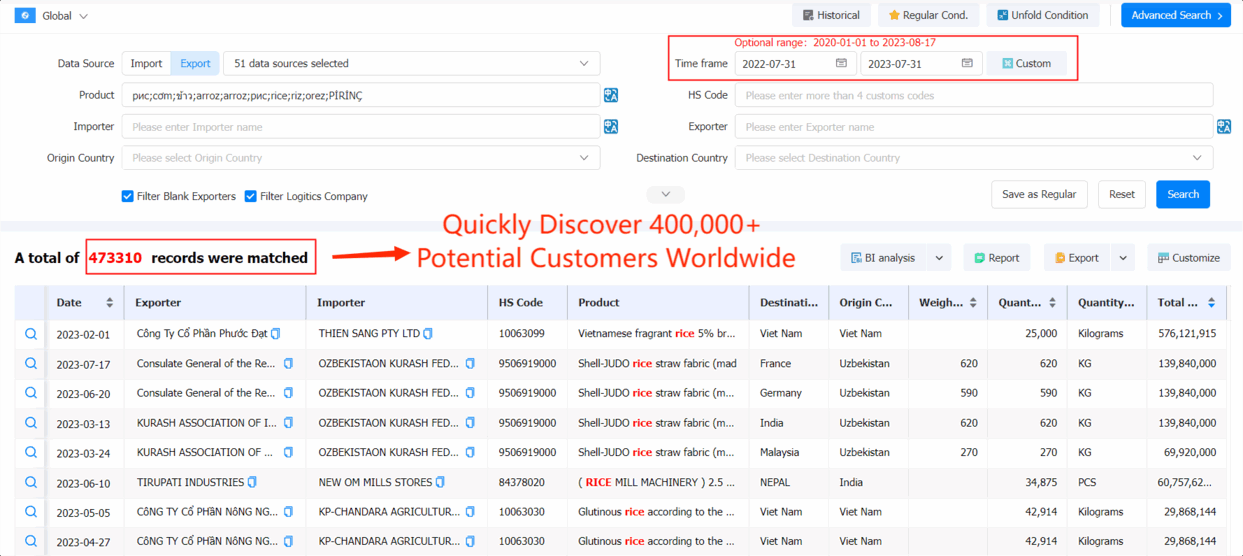 Step 2: Analyze customers and get contact information of precise decision makers
Tendata iTrader, fast batch access to importers and exporters, according to their purchasing volume price and preferences, for you to locate the target customers, while providing target customer information, covering corporate, executive, financial and industry data, etc., a key to dig deeper into the purchasing, executives and other responsible person email, social media, company website and other information, to create the conditions for you to develop customers! (>>> Click to find contact information of importers and exporters)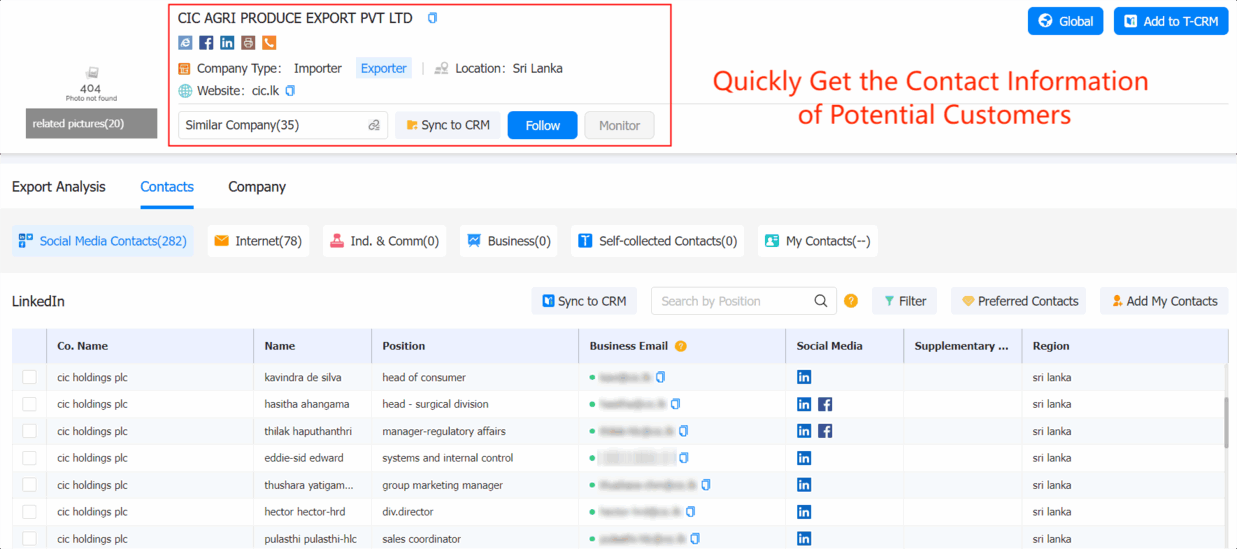 Leave Message for Demo Request or Questions
We always appreciate your visit at tendata.com. We'd love to hear your suggestions, feedback & queries. Please contact us to schedule a demo or learn more about our services. We will respond to your query within 1 working day.