China Restricts Exports Of Key Battery Material

Trade Trends News

23-10-2023



Graphite In Electric Cars
Graphite is primarily used in the steel industry, but demand from the electric vehicle industry is surging.
According to the U.S. Geological Survey, the global end-use market for graphite batteries has soared 250 percent since 2018.
Graphite is the heaviest electric vehicle battery component, with an average of 50-100 kilograms of graphite material used as the anode (the negative electrode of the battery) in each vehicle's battery pack. This is roughly twice the amount of lithium in an EV battery.
Largest Producer
According to the USGS, China is the world's largest producer of graphite, providing 67% of the world's supply of natural graphite.
Mozambique, Madagascar and Brazil are the largest graphite producers outside of China, according to the USGS.
China also refines more than 90% of the world's graphite into materials used in the anodes of almost all electric vehicle batteries.
According to Chinese customs data, the biggest buyers of Chinese graphite include Japan, the United States, India and South Korea.
Automakers including Tesla and Mercedes have been scrambling to lock up graphite supplies from non-Chinese suppliers.
---
Synthetic Graphite
U.S. and European companies have been investing in the development of synthetic graphite, which could account for nearly two-thirds of the electric vehicle battery anode market by 2025, according to estimates by Benchmark Mineral Intelligence.
China also dominates the production of synthetic graphite.
In the first nine months of 2023, China's synthetic graphite exports rose 45% year-on-year to 424,706 tons, according to customs data.
China's Other Mineral Export Restrictions
In July, China announced export restrictions on eight gallium and six germanium products effective August 1st. These minerals are used in high-tech microchips.
The restrictions require exporters to obtain export licenses for dual-use items and technologies, which has effectively curbed exports over the past two months, according to customs data.
---
Customs data contains a vast amount of information, and extracting relevant customer contact information can be time-consuming. Is the outcome truly unsatisfactory, or is it due to using customs data in the wrong way, resulting in wasted effort and time?
Utilizing customs data for customer development involves accurately profiling all purchasers and their procurement systems in the target market. This approach swiftly identifies the highest compatibility customers, assesses their credit systems and procurement details, pinpoints premium customers and profit potential, enhances development efficiency, and elevates results. When developing new clients using customs data, consider the following three approaches for reference. (>>>Click to Get Free Access to Customs Data from 80+ Countries<<<)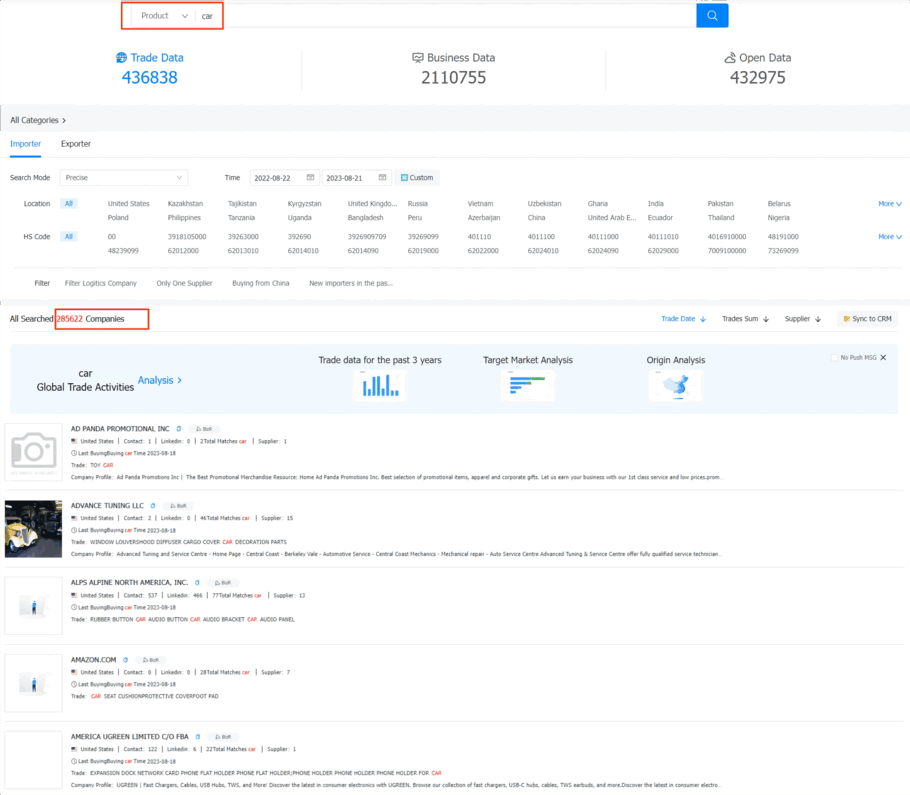 1. Establishing a Customer Resource Repository by Country
Creating a customer resource repository is akin to your own work record sheet. Begin by utilizing trade tracking functionality to compile a list of all customers from a particular country. Next, perform specific analyses based on factors such as each purchaser's procurement volume, purchase cycle, product specifications, and supplier systems (with emphasis on examining the diversity or singularity of their supply channels; preferably retaining customers with diversified suppliers, as those relying on a single supply channel may be harder to develop). Lastly, filter out the potential high-quality customers constituting 30% of this country's total, and record them in your customer resource repository, allowing flexible categorization by country, time, customer name, follow-up steps, contact numbers, emails, and contacts. (>>>Click to Start Developing Customers for Free<<<)

2. Creating a Customer Resource Repository by Peer Companies
Have a solid understanding of peer companies' English names (including full names, abbreviations, etc.). Utilize the global networking capability of suppliers to generate a list of all clients associated with peer companies within the system. Following this, perform essential analyses on these clients based on factors like procurement volume, procurement cycle, product models, and others. Ultimately, identify and record the key customers of your targeted peer companies in your customer resource repository.(>>>Click to Start Developing Customers for Free<<<)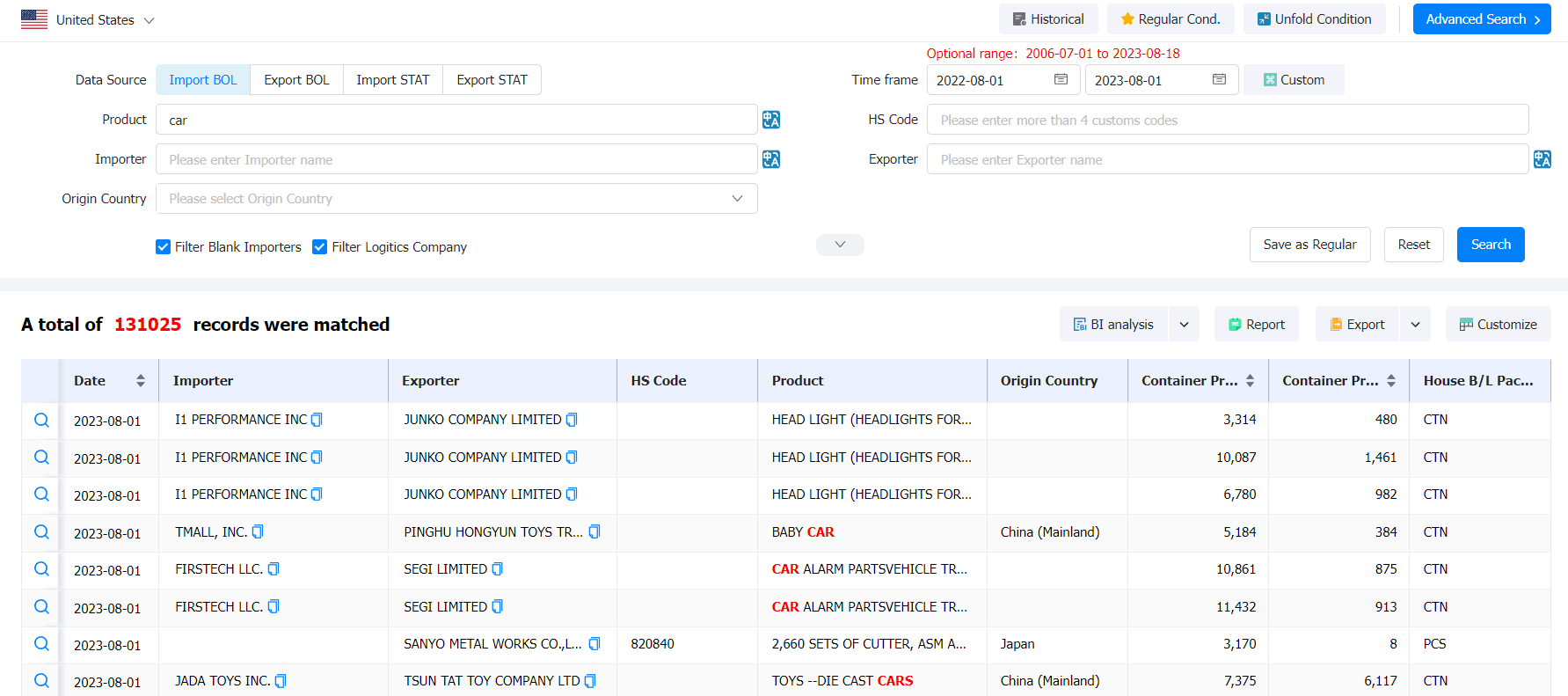 3. Cataloging New Customers from Each Country
For newly emerging customers from specific countries, use the trade search function to select the country, set the date range and limit product names or customs codes. Check "Newest," and the search results will display high-quality customers that emerged most recently in that country within the designated timeframe. Since these customers are newly established, with recent procurement transactions, their supplier stability might be unsteady. Therefore, prioritize following up with these new potential buyers. Lastly, record all these new prospects in your customer resource repository.、(>>>Click to Start Developing Customers for Free<<<)
All three strategies for utilizing customs data to develop customers can be tailored to your company's actual needs. Depending on market conditions, industry specifics, strategic requirements, etc., find the approach that suits you best, with the sole aim of classifying and organizing your premium customers. Once you've found suitable customers, the next step is to contact them precisely, employing various methods such as phone calls, emails, and online chats.
Leave Message for Demo Request or Questions
We always appreciate your visit at tendata.com. We'd love to hear your suggestions, feedback & queries. Please contact us to schedule a demo or learn more about our services. We will respond to your query within 1 working day.