South Korea's Exports Emerge From Year-Long Slump

Trade Trends News

02-11-2023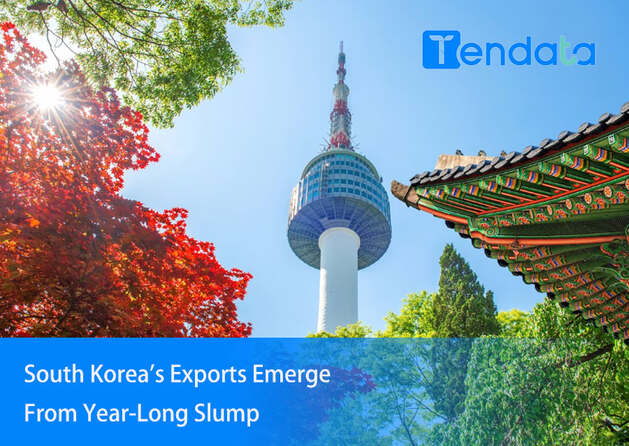 South Korea's exports rose year-on-year in October for the first time in 13 months on strong exports to the U.S. and slowly easing weak demand from China.
Overseas sales in Asia's fourth-largest economy rose 5.1 percent from a year earlier to $55.09 billion last month, trade data showed on Wednesday. However, that was below the median gain of 5.5 percent shown in a Reuters poll of economists.
It reversed a 4.4 percent decline the previous month and marked the first year-on-year increase since September 2022.
By destination, exports to the U.S. rose 17.3 percent, the highest level since May 2022, while exports to China fell 9.5 percent, the lowest level in 13 months.
Automobile exports rose 19.8%, the 16th consecutive monthly increase, while petroleum product exports increased 18.0% after seven consecutive months of decline.
Semiconductor shipments fell for the 15th consecutive month, but the 3.1% decline in October was the smallest in a row.
Lee Jeong-hoon, an analyst at Eugene Investment Securities, said, "Semiconductor prices have bottomed out and are leading an export recovery, while exports to China are slowly improving."
"It's hard to say that China's economy is strong, and there is uncertainty about demand from other major countries next year, but for now, exports are likely to continue to recover," he said.
Speaking after the data release, Trade Minister Fong said the government would push hard to ensure that exports continue to improve by the end of the year, adding that risks such as Israel's conflict with Hamas and China's restrictions on graphite exports would be thoroughly managed.
A separate survey on Wednesday showed South Korean factory activity contracted for the 16th consecutive month in October, but the rate of decline in new export orders slowed. However, demand in China remained weak, the survey showed.
In China, manufacturing activity contracted unexpectedly in October, raising questions about the state of the country's fragile economic recovery at the beginning of the fourth quarter.
South Korea's imports fell 9.7% to $53.46 billion in October, narrowing from the previous month's 16.5% decline but larger than the 4.3% drop economists had expected.
As a result, the country realized a $1.64 billion trade surplus in October, in sharp contrast to the deficit economists had forecast.
Leave Message for Demo Request or Questions
We always appreciate your visit at tendata.com. We'd love to hear your suggestions, feedback & queries. Please contact us to schedule a demo or learn more about our services. We will respond to your query within 1 working day.