Korea's Ramen Noodle Exports Hit Record High

Trade Trends News

21-11-2023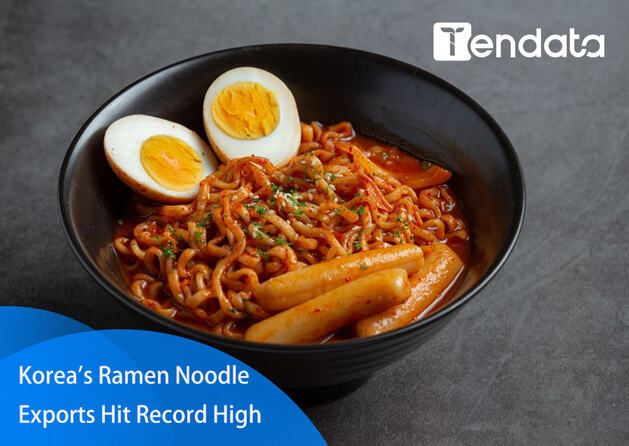 South Korea's instant noodle exports continued their winning streak, surpassing the 1 trillion won ($777 million) milestone for the first time.
The Korea Customs Service estimated Monday that ramen exports reached $785.25 million in the January-October period this year, up 24.7 percent from the same period last year.
The figure has already surpassed last year's export total of $765.41 million.
Since 2015, ramen noodle exports have increased year by year.
In terms of export volume, 201,363 tons were exported during the same period, up 13.9 percent year-on-year. The annual export volume is also expected to hit a record high.
Sales of Korean ramen in overseas markets, including exports and direct sales, are expected to exceed 2 trillion won, according to industry insiders. Several Korean companies are now producing ramen in overseas factories to better meet regional demand.
Nongshim, Korea's largest ramen maker and exporter, produces ramen at plants in the U.S. and China, with combined sales of 90 billion won last year.
In the first quarter of this year alone, more than half of the company's operating profit came from its U.S. subsidiary. The local unit posted an operating profit of 18 billion won in the first three months of the year, a whopping 604.7 percent increase from the same period last year.
An official at Nongshim said, "The productivity of the second U.S. plant, which begins operations in 2022, has improved, so we are rapidly expanding beyond the Asian market." The official also noted that its expanded distribution network in the U.S. has also played a key role in its growing presence in this key market.
Another major ramen seller, Samyang Foods, said its exports reached 587.6 billion won in the third quarter of this year, up from 450.7 billion won in the same period last year.
The company's global sales, which accounted for 7.1 percent of its total sales in 2011, have soared to about 72 percent of the company's total sales as of the third quarter of this year.
"We are continuously expanding our most popular Buldak ramen lineup with various flavors to meet the preferences of foreign consumers," said an official at Samyang Foods. "Recognizing that global sales exceed domestic sales, our strategy is to offer the unique spicy flavors our brand is known for."
This optimistic figure is largely due to the growing popularity of Korean TV dramas and movies, which have raised the global profile of Korean ramen, as well as other Korean foods.
Ramen is exported to 128 countries around the world, with China, the U.S. and Japan being the largest destinations.
In the January-October period, China had the highest imports at $174.45 million, followed by the U.S. ($107 million), Japan ($48.66 million), the Netherlands ($48.64 million), Malaysia ($39.67 million) and the Philippines ($30.90 million).
Australia ($30.16 million), Thailand ($30.07 million), the United Kingdom ($29.8 million) and Taiwan ($28.13 million) were also among the top 10 destinations for Korean ramen.
Among Middle Eastern countries, the UAE ranked 15th with $12.24 million in exports and Saudi Arabia ranked 18th with $8.99 million.
---
How Shanghai Tendata Empowers Growth with Foreign Trade Big Data?
Tendata iTrader is a versatile foreign trade application tool and a great asset for professionals in the international trade industry.
(1) Real-time Access to Comprehensive Global Data: Tendata iTrader offers real-time access to customs data from 91 countries, customs code inquiries, and an extensive collection of foreign trade supply chain data, import-export statistics, and international company data. Companies can freely select the foreign trade databases corresponding to their trade regions and use nine different search methods to tailor their data queries based on single or multiple criteria. The search results can generate 19 types of market reports, and users can perform online comparative analyses as well. (>>> Click to use The Data Online for Free)
(2) Detailed Transaction Records from 91 Countries: Tendata's data system automatically integrates millions of accurate buyer information, detailed transaction data from 91 countries, and competitor details. It intelligently generates various data analysis reports, empowering companies to analyze competitors, maintain relationships with new and existing customers, and stay up-to-date with real-time international trade information. How is Shanghai Tendata performing?(>>> Click for Free Demo)
(3) Internet Search of Email Addresses in 153 Countries: With Tendata's proprietary web crawling technology, companies can access and validate email addresses in 153 countries, making mass email campaigns worry-free. Potential customers are automatically categorized by level, allowing users to find decision-makers within a minute. Choose from various email templates with unlimited sending capabilities. Tendata's data effectiveness is quite impressive. (>>> Click for More Details)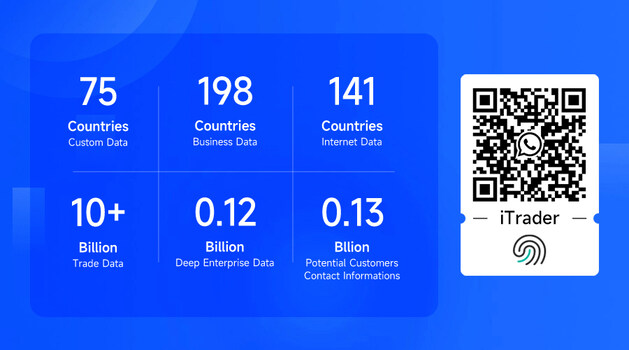 Leave Message for Demo Request or Questions
We always appreciate your visit at tendata.com. We'd love to hear your suggestions, feedback & queries. Please contact us to schedule a demo or learn more about our services. We will respond to your query within 1 working day.