Using Tendata for 2 weeks, sending 3 sample orders, more than 10 intentions

Cases

06-06-2023
Our company is a stainless steel processing enterprise integrating design, production and processing and installation. Our products are radiated nationwide and sold overseas.
Since the beginning of 2020, affected by the epidemic, our company has not been able to participate in overseas exhibitions normally, the main customer development channels were cut off, which seriously affects our foreign trade business expansion progress. The return orders from old customers alone were far from enough to support the company's expenses, and we had to develop new customers.
When we were worried, we found the Tendata platform on the Internet, with the attitude of giving it a try, because I seldom used the customs data before, and I just came into contact with the platform, everything was very new to me. The good thing is that Tendata's service is very professional. Soon, a Tendata data expert called me to explain the platform's functions in detail and gave me a free demonstration of the system. I found that the platform was easy to operate and had all the features that our company wanted, so I decided to get the Tendata platform after many comparisons and communications with Tendata data experts.
Now we have been using Tendata for more than 2 weeks, and Tendata Business Discovery provides one-click search for active customers around the world, accurate email, phone, social media, and official website information, as well as email delivery and subsequent email tracking, which have greatly improved our work efficiency and saved our energy. So far, we have successfully contacted more than ten customers, two of them have sent us sample offers, and the rest of them are being followed up.
Here is how I use the Tendata platform to develop customers in new markets:
01. Research on the ranking status of stainless steel products in the purchasing countries
The Tendata platform not only allows you to quickly understand the top ten regions through graphical charts, such as the largest number of stainless steel origin for China, the largest number of destination countries is the United States. You can also visualize from the list the ranking of all regions, how many suppliers or buyers in each region, the number of trade, the percentage and other rich information. This is very convenient and fast for our market research!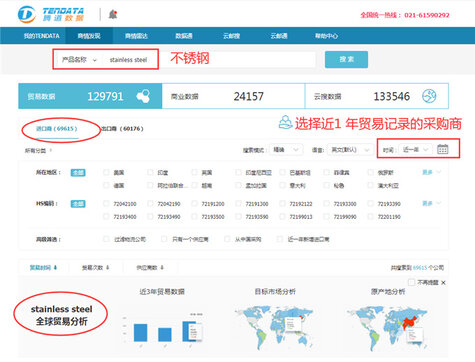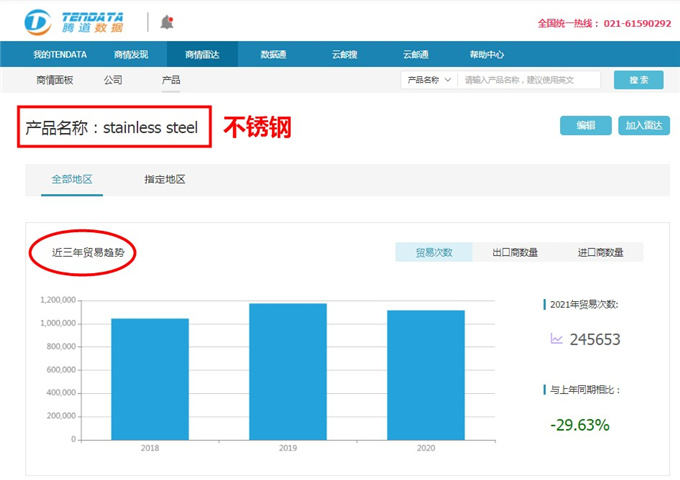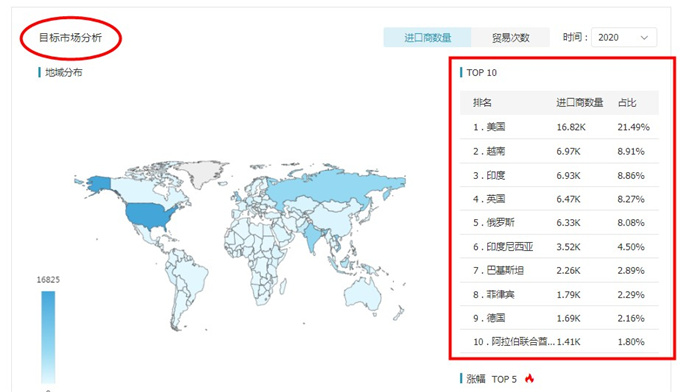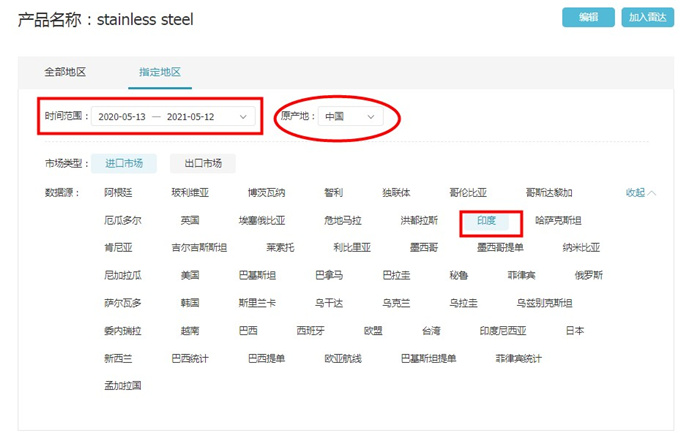 02. Separate analysis of trading trends in a certain destination country
Through Tendata data, we can analyze the countries where our products are purchased the most, and then select one of the target countries for analysis. Take Pakistan as an example, we can see that the overall trend of Pakistan's procurement of [stainless steel] products from China from May 2020 to May 2021 is up, especially after March 2021, there is a significant upward trend. Look at the changes in procurement trends in different countries, timely adjustment of product marketing strategies.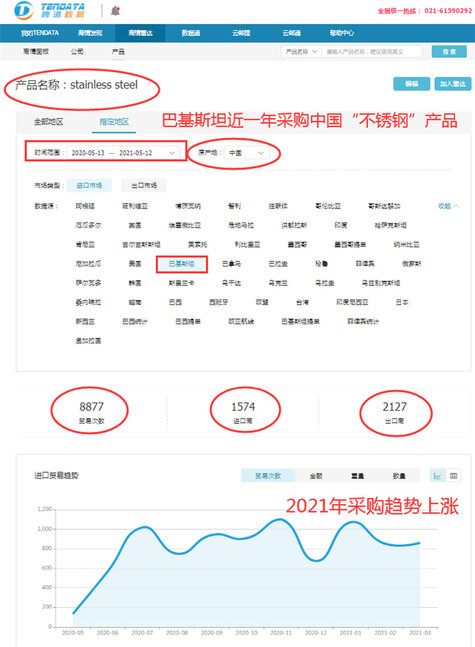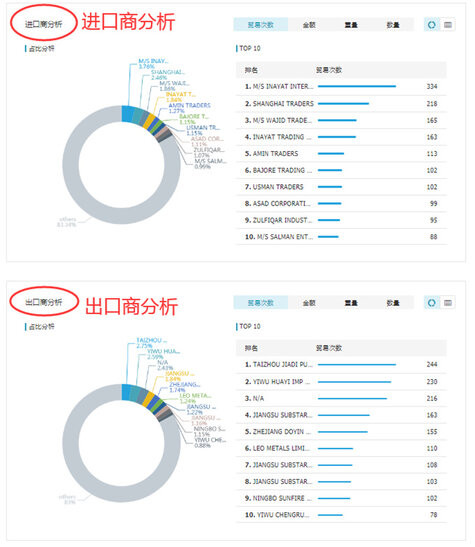 03. Know all the buyers of stainless steel products
Tendata platform can view the breakdown, ranking, number of trading partners, transaction weight, amount and number of times of all suppliers and buyers of stainless steel products.
You can also directly click to view the detailed transaction report of a buyer to do more analysis on the customer to filter whether it is the target buyer and find the right customer to get twice the result with half the effort! You can also click to view the detailed transaction report of a supplier to reverse develop more customers from peers!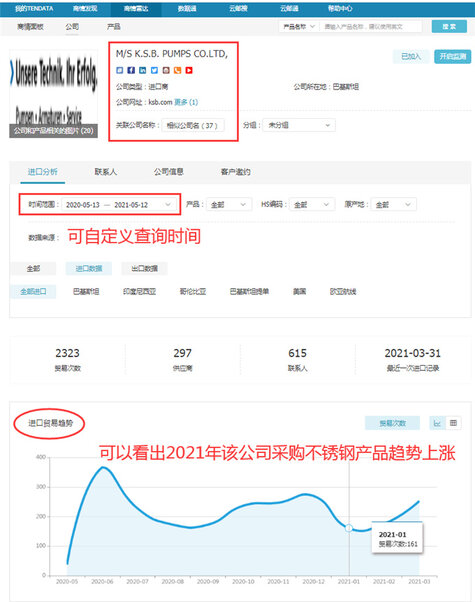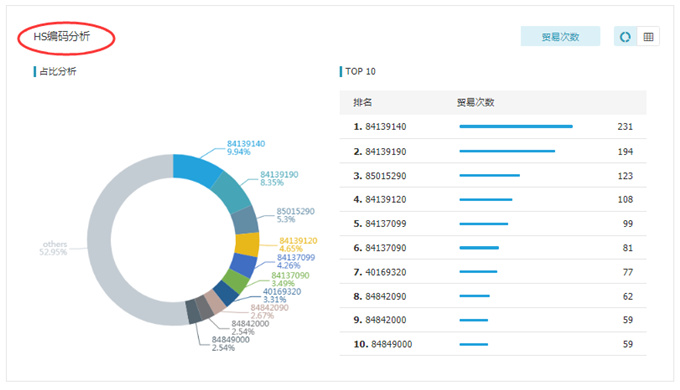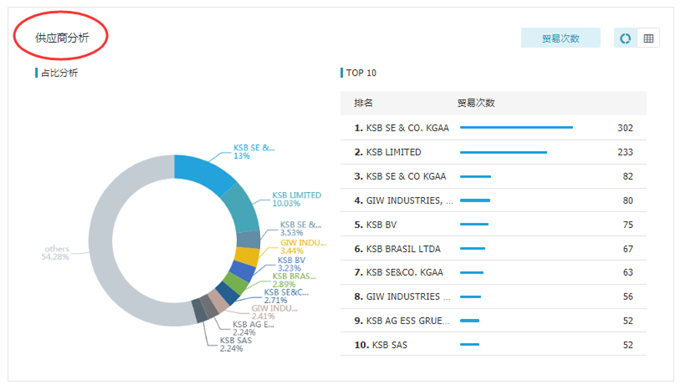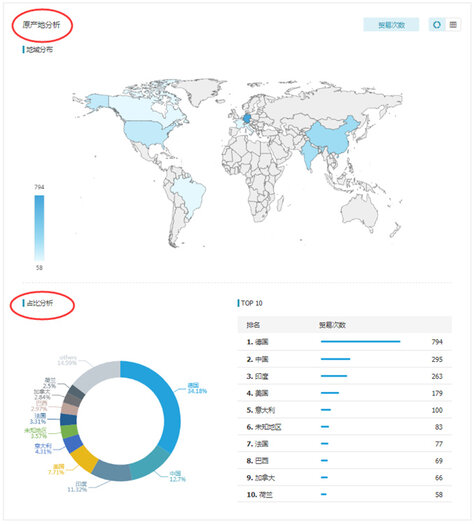 04. Find the matching target customers for EDM marketing
Through the Tendata platform to find our stainless steel products customers in bulk, filter out the matching customers, in-depth analysis and then lock the precise buyers. And deeply match the contact information of the person in charge of the buyer, including name, title, email, company phone, website, social page and other information. Not only can you find customers, but you can also contact them!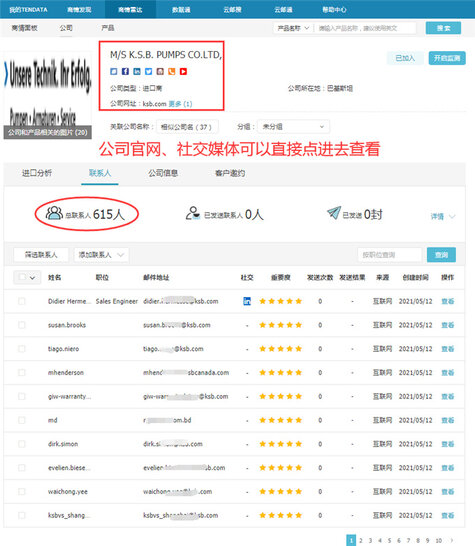 I used this method to develop customers in new markets, and in about one to two weeks, I received several inquiries, among which customers from UAE, Pakistan and India have already sent samples, and several other interested customers are under negotiation.
But this is just the beginning. There are more plans to be implemented and more opportunities to be explored with Tendata in developing new markets and new customers. In the future, we will come back to share more experience and order generation tips with you.
Leave Message for Demo Request or Questions
We always appreciate your visit at tendata.com. We'd love to hear your suggestions, feedback & queries. Please contact us to schedule a demo or learn more about our services. We will respond to your query within 1 working day.